Humax Mobility is fast becoming a mobility platform powerhouse through active investments in technology and purchases of companies specializing in shared mobility, smart parking, fleet management, EV charging, and drones.
With our services and platform, we aim to provide a more convenient and efficient means of transportation for users as well as enhance the efficiency of mobility via effective application of mobility resources.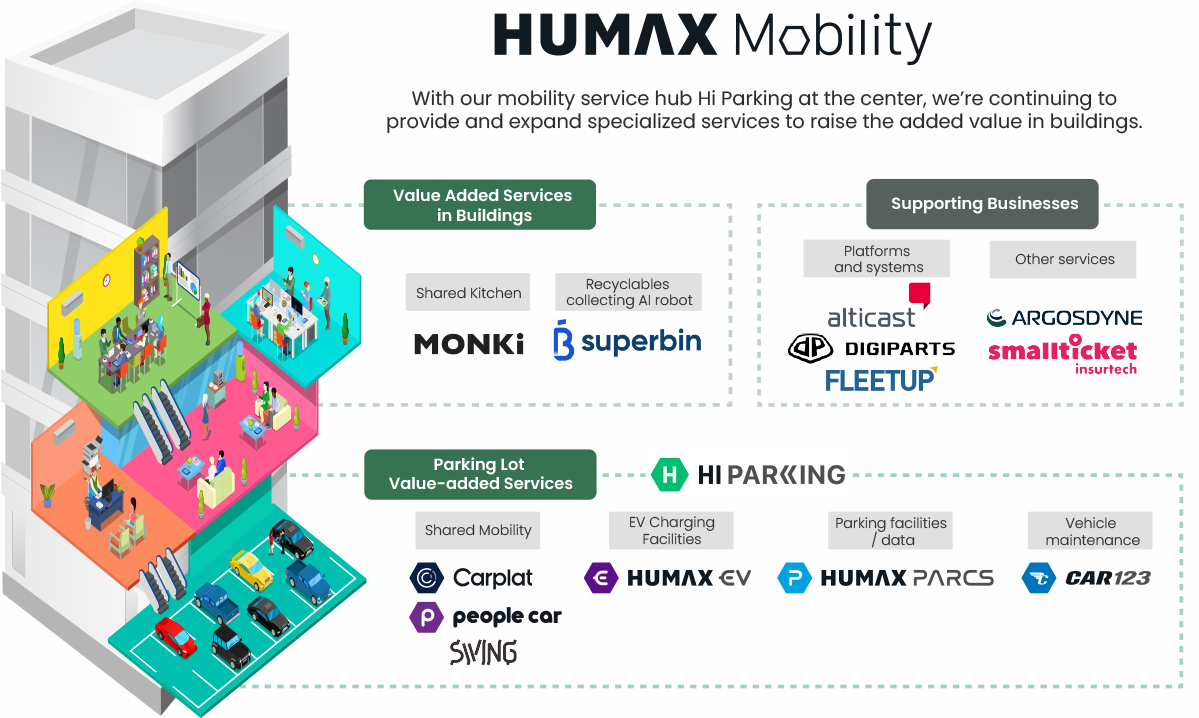 CARPLAT is an integrated mobility solutions company that offers ecofriendly carsharing/subscription service for corporate clients and specialized communities.
In various corporations, public institutions, buildings, apartments, and one-room office buildings, we are providing customized solutions that allow efficient use of vehicles for work, commuting, and weekend leisure.

Exclusive Mobile App
Easy vehicle reservation, use, and return for employees

Automated Car Management
Automatic entries in standard tax forms, driving records generated by department and time period, and smart key use

Employee Rental Service
"My car" service for employees for personal use outside of work

Car Maintenance
Car maintenance service including parking, repair, and car wash

Community Carsharing Service
A community carsharing service optimized for apartments/condos and office buildings
Since its inception in 2013, People Car has been doing the necessary legwork and expanding its technological capabilities in the mobility business, leading Korea's carsharing culture. We have established specific roles and responsibilities agreements with small and medium-sized rental car businesses in every region in the country. With our own open type carsharing platform, we're providing carsharing, short-term rentals, long-term rentals, and the corporate car control system Biz via terminals and related cutting-edge technology. Among our renting options are "carsharing" that rents cars by the hour from carsharing zones, "short-term rental" in conjunction with various rental car companies around the country, and "long-term rental" where customers can use the cars as if they owned them for up to 60 months.

Carsharing
Rent cars from carsharing zones without time restriction
Rent cars by the hour, for less fees compared to standard rental structure
Minimize human interaction with our contactless processing

Short-term/Long-term Rentals
Rent cars by the day or month using our app
Minimize human interaction with our contactless processing
Use our mobile version in lieu of a traditional contract
Swing currently owns the most electric scooters in operation in the country. It also offers the world's very first mobility service to electric scooter users.

Micromobility Solution
The Swing app for individual users and partner-only operation platform are optimized for electric scooter collection and management that take advantage of our data dashboard with real-time indicators, cutting-edge GPS, and theft-prevention technology.

Short-term/Long-term Rentals
Our scooters are equipped with the most advanced IoT modules, LTE, BLE, GPS technology, power motors, and ecofriendly lithium-ion batteries.
Parking-related Businesses
In both size and expertise, Hi Parking is the country's largest and top parking company. With over 600 parking facilities, 180,000 spaces, and up to 16 million cars handled annually, Hi Parking boasts the industry's finest talent network and operational database. And leveraging our financial strength, we continue to invest in parking facilities and systems to enhance the value of our parking lots. We are also developing and offering an array of parking services matching our premium parking brand image, including valet parking and VIP parking lounges.

Parking Lot Management
Service differentiation and development through accumulated parking lot operations knowhow

BTO* Parking Lot Operation
Parking structure construction and operation, addressing the lack of parking spaces
* Build Transfer Operate

Integrated Terminal Parking Lot Operation
Management and operation of parking lots in terminals

Valet Parking Service
High-quality valet parking service

Parking System Installation and Maintenance
Domestic and overseas installation and maintenance of parking equipment

Parking Control Service
24-hour parking control via our remote management system
As a total solution power conversion business, Humax EV is utilizing its accumulated practical technological expertise and experience garnered from diverse industries and offering the very best products and services for the EV charging solutions industry, energy solutions industry, and motor control solutions industry.
From quality EV charging facilities and parking lot development with designs to accommodate EV chargers to facilities PR to stable operation and maintenance, we offer excellence in management that is sure to raise the value of your assets.

EV Charger Production and Installation, Operation Platform
EV charger production, installation, and maintenance
Analysis of data related to charging vehicles, location, and total hourly charges
Real time problem solution, client support, and payment system management with our integrated control system

EV related devices
Production and sale of EV motor controllers and engine generation controllers
Production and sale of high-performance DC/DC converters and golf cart drives

Energy Solution
Production and sale of ESS PCS (energy storage device), power converters, and simulators
Comprehensive ESS energy storage consulting and solution
Production and sale of solar/wind power generation and fuel cell inverters
Humax PARCS specializes in parking control system, offering both hardware and software that go into parking equipment.
With Humax PARCS, you get more efficient real time equipment assessment of vehicle entry/exit, automatic payment, and problem solving based on our machine-learning-driven real time object recognition and AI cloud based smart parking solution.

Smart Parking Solution
Humax's own AI, cloud based LPR (license plate recognition)
Blockchain based payment system security

Machine Learning Driven Real Time AI Vision Object Recognition
AI based real time analysis solution
Accurate recognition of mixed vehicles, and accident prevention through vehicles, people, bicycles, etc.
Image analysis of diverse environments, distortion correction

Parking Lot Broker Service
Parking lots matching user's destination and settings recommendations
Basic information on parking lots, automatic payment system, and discount vouchers

Location-based Information
Related data based on user's and set location
Information on charging station, car wash, petrol station, related events, and discounts
차지인은 전기차 충전 서비스, 설비, 플랫폼, 결제, 인프라 개발 등 전기차 충전과 관련한 토탈 서비스를 제공하는 기업입니다.
충전 인프라 개발, 전기차 충전 관제시스템, 충전 멤버십 등의 사업으로 전기차 시대로의 전환을 한걸음 앞당기고 있습니다.

전기차 충전기 생산 및 설치, 운영 플랫폼
전기차 충전기 생산 및 설치, 운영 플랫폼
충전 관련 차량, 장소, 시간 별 충전 정보 분석
통합 관제시스템을 통한 실시간 문제해결 및 고객지원, 과금시스템

전기차 이용자 중심의 충전 인프라 솔루션
전기차 사용자와 충전기 소유자와의 새로운 충전 마켓 플레이스 네트워킹 서비스 제공
충전 설치 희망고객은 누구나 가입하고 설치, 충전기 공유하여 수익 공유
전기차 사용자는 충전 spot 다양화로 충전 걱정없이 운영
Car123 is a service company that is creating new value and markets through vehicle management and related digital data.
Our goal is to provide vehicles and the maintenance service that meet the needs of our customers to make their lives that much more convenient.

Vehicle Subscription Service
Continues to expand our vehicle subscription service platform through methodical selection of well-maintained vehicles

Door-to-door Maintenance Service
Visits customers at their convenience and performs overall vehicle maintenance and provides repair, car wash, and driver's insurance signup, and other services as needed

Long-term Lease Service
Goes beyond the standard car lease/rental service to offer control-type long-term auto lease that integrates vehicle control and maintenance

Outsourced Corporate Vehicle Service
Offers vehicle maintenance services that meet customer needs with our experienced maintenance personnel and countrywide maintenance network

Used Car Extended Warranty Service
Provides full car repairs within the warranty coverage policy for customers with extended warranties purchased through used car platforms

Smart Fleet Service
Provides smart integrated vehicle control services that efficiently and conveniently manage everything from corporate vehicle lease to maintenance and even expenses
Monthly Kitchen helps entrepreneurs start their businesses with lower costs through restaurant kitchen leases with designs reflecting years of knowhow and analysis. We are the nation's first subscription shared kitchen solutions firm offering in a subscription form everything necessary to run a successful eatery.
With our system, you get to minimize initial investment and subscribe to any or all of our services as needed, including sanitation, kiosk, marketing, design, accounting, and menu development. Our shared delivery-specialty kitchens and differentiated offline halls make it easier for businessowners to boost profits or even expand into other related businesses.

Lease with No Initial Investment Fees
Shared kitchen lease without buying kitchen equipment or doing interior work
Owners open for business immediately after signing the contract

Coaching/Subscription Service
Support through monthly subscription of services such as menu development, photographs, delivery app management, sanitation, POS system management, and accounting and tax preparation
Mentoring and coaching by restaurant chefs and food specialists

O2O Lifestyle Sharing Platform in Progress
Evolving into O2O lifestyle amenities platform integrating laundry, package delivery service, convenience store, and much more
Integrated lifestyle platform combining shared kitchen, shared office, and shared parking currently in development
Super bin designs and operates an innovative sustainable recycle culture and infrastructure by applying AI and robotics technology to domestic waste management. We pick up, sort, distribute, and reprocess recyclable wastes, changing people's mindsets about the environment in the process, and distribute profits from recycling resources.
Nephron is Super Bin's AI resource recycling retrieval robot that automatically recognizes, sorts, and handles recyclables. Through the AI algorithm Neuro-genie, it sorts and collects wastes, connects with a delivery system, and performs reprocessing to create new resources as part of the resource recycling process.

Money for Waste, AI Robot Nephron
The robot that collects recyclables using AI Neuro-genie, camera, and various sensors
Collected recyclables compensated with cash

Super Cube, the Portable Nephron
The portable, cube-shaped recyclables-collecting robot installed with two Nephrons
Unlike the stationary Nephron, it can help more people to become ecofriendly
Can be used for regional or corporate events, children's awareness, and environmental campaigns, and can store up to 6,000 cans or plastic bottles
Small Ticket is an insurtech platform company offering lifestyle-based insurance packages.
Despite the quickly changing society and diversification of individual lifestyles, standard insurance is having a difficult time keeping up. Small Ticket offers insurance products that are tailored to different lifestyles to provide more enjoyment and happiness in life. Along our current lineup of mobility insurance, pet insurance, sheltered dog insurance, foreign travel insurance, and leisure insurance, we are continuing to expand the range of our insurance offerings.

Insurance Tailored to Lifestyles
A welcome change from existing insurance products that are pricy with little benefit
Customized insurance chosen by users that fit their lifestyles
A portion of insurance fees are provided as reward

On-demand Mobility Insurance
Insurance coverage for the date and time chosen for bicycles, electric scooters, or motorcycles for delivery riders, even those without prior experience
Insurance for two-wheeled motor vehicles (for home use)
For online signups, an average of 17.3% lower cost for auto insurance
Argodyne is a drone mobility platform company. With our drones, wireless charging drone stations, and GCS-integrated DIB (drone in a box), we process drone video/sensor data in real time and offer automatic flight and unmanned operating systems.
Our priority is the safety of individuals and the wellbeing of society. The Argoydne DIBs detect fires, accidents, and security issues in cities and industrial complexes, help control traffic volume in real time, search for missing people and survivors, and aid in rescues.

Drone Mobility Platform
An automatic system that reduces dependence on pilots through the integrated use of drones, stations, and autonomous flight operating system
Less operational burden and less cost with pilot-less automation

Service Model Geared toward Social Values
Quick and effective deployments that contribute to the wellbeing of society
When physical approach is difficult or time and costs are a big issue, such as security or fire monitoring in cities and industrial complexes, real-time traffic volume control, or missing people or survivor searches
Alticast is a SW solutions specialty company that builds integrated mobility platforms organically connecting an array of mobility services.
With our accumulated technological expertise gained from providing digital broadcast software solutions worldwide, we are building stable foundations for the mobility industry by organically connecting service platforms that include carsharing, car rentals, and personal mobility.
As the premier mobility solutions company in the country, we are continuing to grow and building connected mobility platforms that form the basis for mobility services.
More than 70% of car sharing services in Korea carry Digiparts products. Worldwide, we are directly building systems or partnering with OEM companies in over 16 countries.
Based out of the United States, FleetUp provides fleet management systems for controlling vehicles. From vehicle-installed devices to control systems, we offer total solutions for FMS.
Through proper fleet management, significant reductions in fuel and operational expenses as wells as field service costs are possible. What's more, you'll see a general increase in effectiveness in distribution and logistics.  
*FMS (fleet management system): the next-generation transportation infrastructure's core technology that maximizes the efficiency of vehicle movement and resources by controlling vehicle condition, driving data, driving efficiency, and other information relevant to vehicle operation